New Legislation Aims to Prevent Wildfires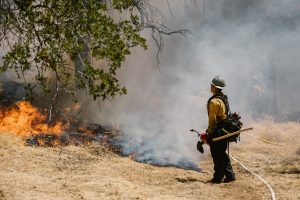 The plumes of smoke looming over the Truckee Meadows are an annual reminder of the persistent threat wildfires pose to private and public property, livelihoods, and lives across the western United States. Recognizing the inherent danger presented by more frequent catastrophic wildfires, the 81st Session of the Nevada Legislature passed two important bills intended to increase the State's ability to combat and prevent wildfires, which were approved by Governor Steve Sisolak on June 2, 2021.
A.B. 84 adds a new section to Chapter 472 of the Nevada Revised Statutes authorizing the State Forester Firewarden, with the approval of the Director of the State Department of  Conservation and Natural Resources to, on behalf of the State of Nevada, negotiate and enter into, cancel, or modify public-private partnerships for the purpose of addressing the threat of cataclysmic wildfires in the State of Nevada for investment in wildfire prevention, restoration, infrastructure, and workforce development for enhancing landscape resiliency against the threat of wildfires.
A.B. 84 also expands the State Forester Firewarden's existing authority of to allow for the purchase or acquisition by donation, cameras or other equipment necessary for the early warning or detection of wildfires.
A.B. 86 revises NRS 472.540, 474.550 to remove the requirement that a willfully or negligently set fire must threaten human life before the person, firm, association, or agency responsible for the negligently or willfully set fire may be held liable for the expenses incurred in extinguishing  the fire or meeting the emergency to the federal, state, county or municipal agency which incurred those expenses.
Among other changes, A.B. 86 also revises NRS 472.540 to prescribe certain criteria for the State Forester Firewarden to consider when determining  whether  a  person,  firm,  association  or agency is responsible for willfully or negligently causing a fire. Such criteria include, whether the person, firm, association, or agency: failed to exercise reasonable care given: (a) The forecasted and existing weather conditions; (b) The conditions of fuel moisture; and (c) The topography of the area of the fire.
If you have questions about these or other developments in Nevada law following the 2021 Session of the Nevada Legislature, please contact the attorneys at Lemons, Grundy & Eisenberg to schedule a consultation.