In Memoriam of David R. Grundy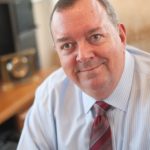 It is with heavy hearts that we announce the loss of David R. Grundy, partner and founder of Lemons, Grundy & Eisenberg.  Dave passed away unexpectedly the morning of Tuesday, February 25, 2020.
Dave was a native Nevadan, born in Reno, Nevada in 1949.  He was a graduate of Reno High School and the University of Nevada, Reno.  He then served in the Navy, including two years in the South China Sea, before attending law school at the University of the Pacific, McGeorge School of Law, where he obtained his Juris Doctor degree in 1977.  Dave returned to Reno in the late 1970s, where he became an accomplished trial lawyer and a partner at Lemons, Grundy & Eisenberg.
Dave's professional accomplishments were countless.  In addition to conducting numerous trials in state and federal court, he was a Fellow of the American College of Trial Lawyers and a member of the American Board of Trial Advocates.  He served as a member of Nevada's Judicial Selection Commission for over a decade and, as a result of that experience, was selected by then-Chief Justice Miriam Shearing to serve as an editorial adviser for the Handbook for Judicial Nominating Commissioners.  He was a founding member of the Association of Defense Counsel of Northern Nevada, served as president of the Bruce R. Thompson Chapter of the American Inns of Court, and served on the Board of Directors for the Association of Defense Counsel of Northern California and Nevada.  He contributed to the development and teaching of the law to other lawyers and legal professionals through CLEs and authoring portions of the Nevada Civil Practice Manual.
Dave was also very involved in this community.  He was an enthusiastic supporter of the Nevada high school mock trial program, serving as a judge, helping with practices, and helping draft the 2018 National Mock Trial problem.  Dave was also avid Wolfpack athletics fan, and traveled far and wide to support the Nevada basketball team.  In his retirement, Dave loved to golf, travel, and spend time with his wonderful grandchildren.
Dave's contributions to the Northern Nevada community and the practice of law in the State of Nevada have been profound. He will be greatly missed by his family, friends and colleagues.