Sarah M. Molleck presents "Behavioral Decision-Making"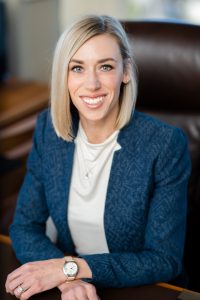 LGE attorney Sarah M. Molleck presented at the State Bar of Nevada's CLE, "Ethics Year in Review" on December 11, 2019.  The CLE was organized and presented by members of the Standing Committee of Ethics and Professional Responsibility, of which Ms. Molleck is a member.  Ms. Molleck presented one of four segments as part of the CLE that covered Ethics and Substance Abuse for Nevada licensed attorneys.  Ms. Molleck was joined by her co-presenter, John Bragonje, of Lewis, Roca, Rothgerber, Christie, LLP.
The two presented on behavioral decision-making and legal ethics in a segment titled, "What Were You Thinking," which explores the various situational and psychological factors that can affect attorneys as they are faced with a dilemma that may include ethical implications.
"The goal of our program was to help educate attorneys on the different systems of thinking that your brain employs when faced with a decision and to help curb that 'gut-reaction' decision-making that may have future ethical implications," said Ms. Molleck.  "Helping attorneys be cognizant of situational pressures, such as work stress, economic pressure, and institutional influences can help us take the time to slow down and engage in conscious decision-making."
The seminar was presented live at the State Bar Offices in Las Vegas, Nevada, and also broadcast online.  A link to Ms. Molleck's bio can be found here: Sarah M. Molleck.