LGE Best Law Firms 2019 Award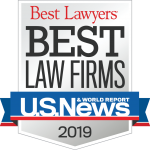 Lemons, Grundy & Eisenberg has been recognized by U.S. News and World Report's "Best Law Firms" list of 2019.  LGE was awarded a Tier 1 Metro ranking in both appellate and personal injury defense practice areas.
"The 2019 rankings are based on the highest number of participating firms and highest number of client votes received on record. To be eligible for a ranking, a firm must have a lawyer recognized first in The Best Lawyers in America, which recognizes the top five percent of practicing attorneys in the U.S." U.S. News and World Report, "U.S. News and Best Lawyers Release 2019 'Best Law Firms' List," https://www.usnews.com/info/blogs/press-room/articles/2018-11-01/us-news-and-best-lawyers-release-2019-best-law-firms-list.
LGE lawyers Robert Eisenberg (appellate) and Edward J. Lemons (personal injury defense) have been recognized for their practice in Nevada.  The "Best Lawyers" rankings "are based on a rigorous evaluation process that includes the collection of client and lawyer evaluations [and] peer review from leading attorneys in their field…" U.S. News and World Report.
The firm is honored to receive this award as a symbol of its diligent representation on behalf of its clients.