Accessing Public Lands in Nevada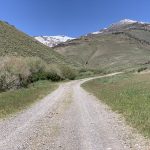 With the longer days and nicer weather, many Nevadans utilize Nevada's vast public lands as a form of recreation.  Although public lands in Nevada comprise almost sixty three percent of the area within the Nevada borders, growth of new industries and a growing population base can, often times, create conflict between the rights of property owners and the ability of the public to enjoy the use of public lands.
An example of where tensions can arise is when a landowner owns a parcel of land where a public or county road passes through the private property to public land.   Often times, a private landowner may attempt to block access to the public land by installing a locked gate on his or her property.  While the landowner may feel he/she has a right to block access through his/her property, the actions of the landowner in installing a gate may result in the loss of use of the public lands to others.
In 2019 the Nevada legislature amended NRS 202.450 to provide protections for those seeking to lawfully utilize public lands.  NRS 202.450(a) make it a public nuisance for any person to block a public road or access to public land.   The statute further makes it illegal to knowingly misrepresent the status of the ownership of any such road or public land.   Pursuant to NRS 202.470, a person who knowingly commits a public nuisance shall be guilty of a misdemeanor.
If you find yourself in the Nevada back country and come across a locked gate, it is first important to determine whether you are travelling on a public road or on public property.   It Is not recommended that you trespass, particularly if you are unsure if you are traveling on a public road or private property.  Instead, it is advisable to contact the local jurisdiction in which the locked gate or obstruction is located to assist in determining whether a violation has occurred and to assist in removing the public nuisance.
If you have any questions regarding access to public lands or trespass, contact an attorney at Lemons, Grundy & Eisenberg to see if we can assist you.